The Book
Salem: Place, Myth, and Memory
Edited by Dane Anthony Morrison and Nancy Lusignan Schultz
› About the authors
› Book reviews
› Photos from the book
› Buy this book at Amazon
How is a sense of place created, imagined, and reinterpreted over time? That is the intriguing question addressed in this comprehensive look at the 400-year, multi-layered history of Salem, Massachusetts, and the experiences of fourteen generations of people who lived in a place forever enshrined, indeed mythologized, in the public imagination by the horrific witch trials and executions of 1692 and 1693.
By exploring the rich textures of Salem as a local, national, and global entity from its settling in 1626 to the present, this highly original, cohesive, and teachable collection illuminates how people influence a place and how a place influences its people.
CHAPTERS
Salem as Frontier Outpost


EMERSON W. BAKER II

Salem as Religious Proving Ground


CHRISTOPHER WHITE

Salem as Enterprise Zone, 1783-1786


ROBERT BOOTH

Salem as Athenaeum


MATTHEW G. MCKENZIE

Salem as Citizen of the World


DANE ANTHONY MORRISON

Salem as the Nation's Schoolhouse


REBECCA R. NOEL

Salem as Hawthorne's Creation


NANCY LUSIGNAN SCHULTZ

Salem as Architectural Mecca


JOHN V. GOFF

Salem as Global City, 1850-2004


AVIVA CHOMSKY

Salem as Crime Scene


MARGARET PRESS

Salem as Witch City


FRANCES HILL

Salem's House of Seven Gables as Historic Site


LORINDA B. R. GOODWIN

Coda: Montage of Brick and Water


J. D. SCRIMGEOUR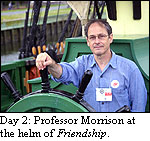 The Institute
IDS 333-763, Topics in American Studies
Instructors: Dane Morrison, Ph. D., Nancy Schultz, Ph. D.
Organized around the book Salem: Place, Myth, and Memory, this course challenges students to reconsider the notion of place, including the ways in which the local intersects with the national and the global. Throughout the course, we return to a set of essential American Studies questions: What makes a place distinctive or unique? What is the role of place in the American experience, and in shaping American culture? --- View the syllabus (pdf)